Stephenson told ABC News that he even went red when he saw the form in his 6th grader's orientation packet."Hey my dad has more money than you I get to eat first you have to wait you have to wait,"  Stephenson thought the students would say. Many parents, including Stephenson, were outraged and contacted the principal of the academy to complain. But the principle of the middle-school, Brian Andrews, said he didn't even sign off on the paperwork. "I have strived to be as inclusive as possible with all kids and this is not something I support," Andrews told WFLA. Andrews said he did not approve of the fundraiser and was not even aware that sponsor forms were inside the orientation packets. "This fundraiser will not be taking place at Lawton Chiles Middle Academy," Andrews said in an email to parents, according to WFLA.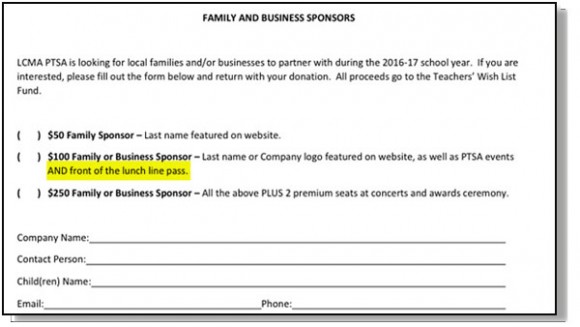 (Screenshot of the letter, via WFLA).The principal also said he discussed the issue with the volunteer PTSA member as well."As a PTSA group, they're always looking to for creative ways to raise funds. I think it was brainstorming on their part, unfortunately, it needs to be approved by me, however, it seems like this didn't pass my desk," he said.A statement received by ABC News from the PTSA said the issue over the fundraising program was caused by a "clerical error." The statement also says the program was "explored but we decided not to implement" it and families have been notified that the program "is not being offered." The principal questioned the school over how events led up to the mistake. "Where were the checkpoints missed, who allowed and approved documents to be distributed to 300 some odd students without having read it?" From NTD.tv  LINKEDINPINTERESTREDDITTUMBLRSTUMBLEUPON   US (Lawton Chiles Middle Academy via Google Earth) READ MORE: Texas School District Approves Paddling to Punish Students
An English teacher in Miami, Florida. (Photo by Joe Raedle/Getty Images)By Bowen XiaoSchool officials from a Texas district have approved a controversial way to discipline misbehaving students—paddling. The policy will allow for paddles, most likely made out of wood, to administer corporal punishment when a student misbehaves at school, USA Today reported. The board of trustees from the Three Rivers Independent School in Southern Texas approved the new policy on July 18. Corporal punishment is defined as the "deliberate infliction of physical pain by hitting, paddling, spanking, slapping, or any other physical force used as a means of discipline," according to the Texas Classroom Teachers Association (TCTA).  Board Trustees voted unanimously 6-0 in favor of the motion—one member was absent. The policy states that the disciplinary measures can only be used by a campus behavior coordinator or principal, USA Today reports. Parents will be able to decide whether to opt in or out of the new policy upon registering their children for the next school year. "If the parent is not comfortable with it, that's the end of the discussion," the school district's superintendent Mary Springs told the Caller-Times.Texas is one of 15 U.S. states where corporal punishment is legal, and eight other states have no law prohibiting it.The new policy at the Three Rivers Independent School District is set to begin at the start of the 2017-2018 school year. In November, former education secretary John B. King Jr sent a letter to state leaders urging a ban on the use of corporal punishment in schools. King argued that the practice is linked to harmful short-term and long-term effects for students, USA today reported. Kings letter cited a study concluding that students who received physical punishment at school showed an increase in aggressive and defiant behavior in the short-term. In the long term, however, students were more likely to grapple with substance abuse and mental health issues, including depression, personality disorders, and post-traumatic stress.  Parents in Florida are outraged after a middle-school fundraising form went out that offers students VIP passes to the front of the lunch line—but only if they pay a $100 donation. The letter form is from a PTSA sponsorship for the Lawton Chiles Middle Academy in Lakeland. It was sent out to parents of students to raise money for the school. But one part of the form stated that a $100 donation would allow the donor a "front of the lunch line pass" and a "last name or company logo feature on the website." According to ABC News, parents are calling the incident "cafeteria classism."   One Lakeland father, Christ Stephenson, told ABC News he was upset over receiving the letter. "You got those who can pay, and those who cannot," he said. 
Share Show Discussion Share this article Parents Outraged After Florida School Offers Students to Skip Lunch Line for $100 By NTD Television August 13, 2017 Updated: August 13, 2017
read more